Thanksgiving is officially over and there is no moral obligation for me to avoid getting into the Christmas spirit. Unfortunately, Christmas can be an odd time for some, especially now that both Russian hackers and the Russian government have been accused of stealing it… again.
Roskomnadzor, Russia's media regulator, who even regulates telecoms, has claimed that many websites have offered to create personalized Christmas letters to Santa Claus (well, actually, New Year's letters to Jack Frost… I'll explain later), and have asked for personal details including a child's full name, date of birth, address or school. Naturally, the Russian government is investigating these websites for their sinister intentions.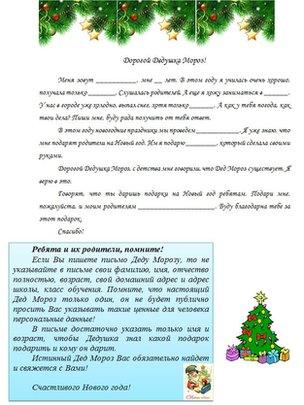 To avoid the more naive Russian children telling the axe-murderers where they live, the government has created a safer sample letter themselves and released it on social media.
"This year I have been studying very well… I was obedient to my parents," says the government-approved letter template, some lines about the weather, "They say that you give presents to children for the New Year. Please give me and my parents [blank]. I would be very grateful for this present. Thank you!"
As seen on the side, they have even decorated the letter with some festive clip-art. The government can't be that scary when they use clip-art. Reactions to the well-intention-ed gesture, however, have been less than jolly.
Comments on Russian social media over the gesture have included "Such nonsense – is this what taxpayers' money is spent on?" and "Prices are going up, mass redundancies, and they are writing letters to [Santa Claus]."
One poster even went so far as to make a fake template, reading, "My name is [blank]. I love living in Russia. In the election my parents voted for [blank]. This year I didn't visit banned internet sites…I support the destruction of food items under the sanctions and re-unification with Crimea. Don't give me any presents, I have everything! Please ban even more streaming websites next year! Thank you!"
To be fair, Christmas has always been a bit of a complicated topic for Russians. For years, Christmas had been banned by the rather atheist Soviet government, although they would prefer to say "discouraged." In its stead, Russia adopted Christmas traditions into the secular New Year's tradition, like a decorated tree or having a jolly, fat man sneak into your house to give the children presents. Since Santa Claus is a Catholic saint, however, the jolly, fat man in red is said to be Ded Moroz, the pagan god of winter, but he still acts and looks like Santa Claus.
Instead of elves, he is helped by "Снегурочка," or the Snow Maiden. After the Soviet Union dissolved rather ironically on December 25, 1991, in what was truly a Christmas miracle, the law reinstated Christmas as a public holiday, although it is treated as a religious holiday and is celebrated in January.
Но давайте все присоединиться к братству и праздничности, поют для нас Снегурочка!
[BBC]