The price of solar power is dropping, and dropping fast, which is great because now maybe Captain Planet and Al Gore will stop shaming us all to death.
Dubai recently received a bid of  of $.0299/kWh for 800MW of solar power. You may not understand what the hell that represents, but know this — it's the lowest price recorded for solar power.
"Dubai Electricity and Water Authority (DEWA) has received 5 bids from international organisations for the third phase of the Mohammed bin Rashid Al Maktoum Solar Park," said HE Saeed Mohammed AlTayer, MD & CEO of DEWA. To put that into perspective, utility scale solar projects in the United States in 2014 averaged $.05/kWh.
Iin 2015, Dubai signed a deal a t a fixed-rate of $0.0584 cents over 25 years with no incentives. Also in 2015, Austin Tx received almost 1,300MW`of bids at under $.04/kWh. Not long after, Berkshire Hathaway Inc.'s NV Energy agreed to pay $.0387/kWh for power from a 100-megawatt project that First Solar Inc. Notice the trend? The price of solar power has been steadily dropping and in April of 2016, Enel Green power signed contracts for $.036/kWh in in Mexico and $.03/kWh in Morroco.
In just 16 months, the price per kWh (kilowatt-hours) dropped 50 percent.
Dr. Moritz Borgmann at the Apricum Group explained some of the finances:
"It can be expected that both JinkoSolar and the third-lowest Acwa Power pushed their proposals very close to what can be considered commercially feasible today."
"One may speculate how Masdar and FRV seemingly manage to play in a universe of their own. Because the majority of the expenses for a solar power plant lie in the upfront cost of construction, which gets recovered over numerous years, the cost of financing is a key overall cost driver." he continued.
"One can suspect that Masdar had access to long-term financing through the wealthy emirate of Abu Dhabi that no commercial banks, the primary source of capital for the other bidders, could match in cost."
Naturally, the pricing of solar power is very complex. You have to take into account incentives when looking at the overall price per kWh.
That said, Warren Buffet's $.0387/kWh could potentially turn into about $.07/kWh if the 30% Federal Tax Credit and 60% depreciation were backed out in Year One. Right now, with the price of solar power falling at roughly 10% per year, the last 16 months non-withstanding, Buffet should be under $.06/kWh with no incentives by 2018. It's a tricky business, but the two charts above and below might help just a wee bit.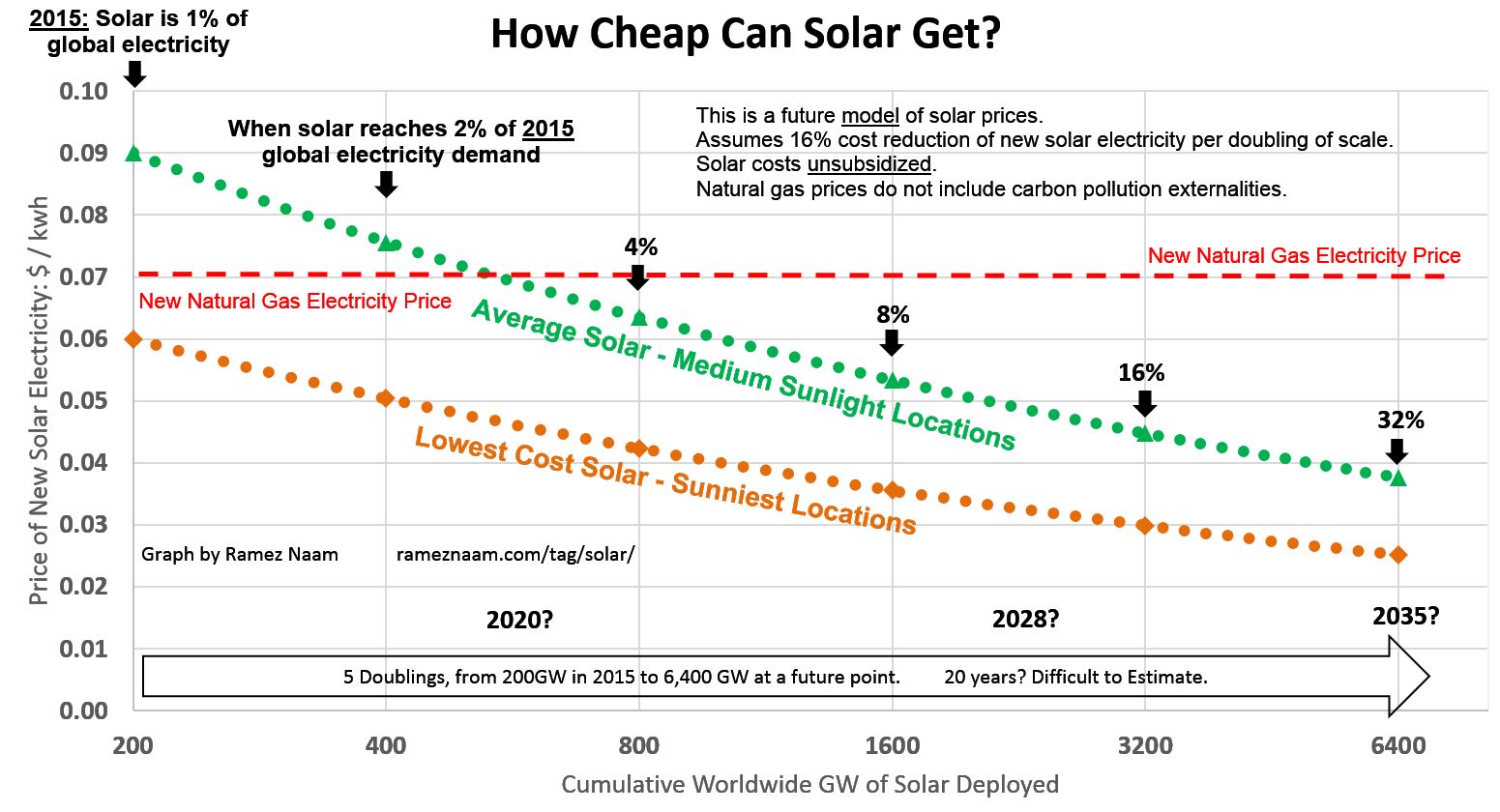 According to Ramez Naam, we won't be hitting $.03/kWh in the sunniest region for another 14 years. The Europeans hope to hit $.02/kWh by 2050, but if the price continues to drop as it has been then we could, potentially, see it become even cheaper and more commercially accessible.
[Electrek]