Finding a healthy relationship in our modern age can be pretty daunting, and that's a pain in the buns when your parents want grandkids.
Just ask Salt Lake City bachelor Baron Brooks, who was made aware of his father's desire for grandchildren in quite the bizarre fashion when he noticed a full-page ad printed in the Coeur d'Alene Press.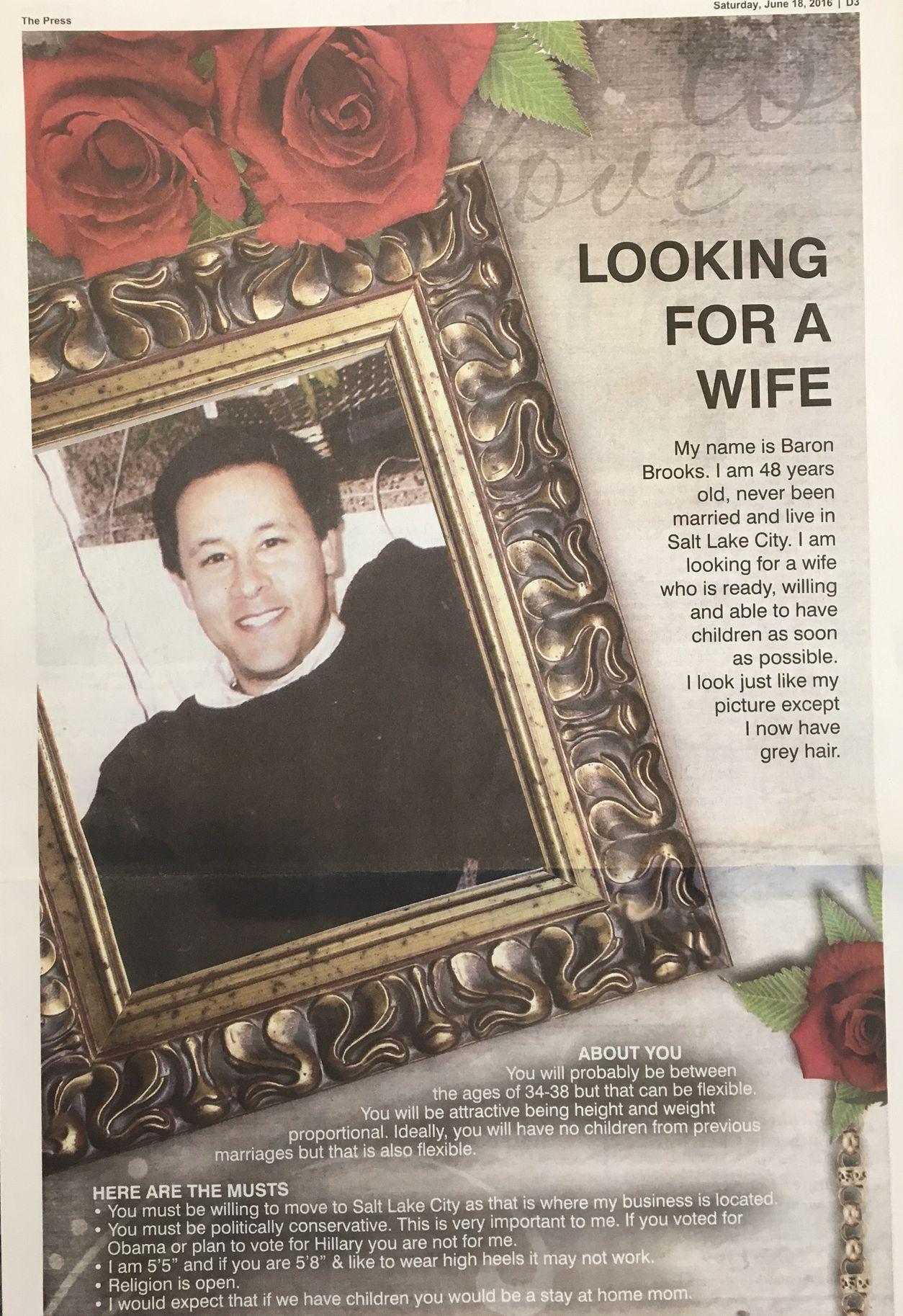 The ad, which was supposedly written from Brook's perspective, detailed various must-haves. Preference was shown towards women who are "attractive being height and weight proportional," and in their mid-thirties. Religion is optional but should be willing to marry Jewish. Women with children from a previous husband and tall women are also discouraged.
What did Baron Baby Boy have to say about all this? Well, he made it clear that he had no direct part in all this, despite what the ad claimed, saying, "My father did this without my consent. I can't even describe to you how embarrassing and ridiculous this is…That's my dad: stumbles into stuff, has a loud mouth, thinks he does the right thing, and then it all blows up in his face." The ad itself had claimed, "I have asked my father to screen people for me. He will be at the Coeur d'Alene Resort," which is probably was a way to get the potential daughters-in-law not asking any questions.
However, he did admit a more sympathetic explanation for his father's passive aggressive behavior, saying, "Ever since he went into congestive heart failure he's done some really kooky stuff" in his various attempts to produce a grandson to inherit his family name. It might seem counter-intuitive not to consider women with children from a previous marriage (it's like cutting out the middle man) but most single mothers Brooks meets are not interested in having more children. Naturally, that brings up the issue of giving Arthur a brand new baby Brooks.
Apparently, it's also hard to find a nice Jewish girl that shares Baron's political leanings.
Baron Brooks' father really, really wants grandchildren. So he took out a full-page newspaper ad: https://t.co/y3kO54XEOR

— SpokesmanReview (@SpokesmanReview) June 21, 2016
But, who knows? Maybe something good will come out of it, and it might even inspire others to use media, possibly even digital, to navigate the hardships of modern relationships.