Halloween, the night of the witches, has never had its own Santa Claus or Easter Bunny, but that's all about to change. You may have met her already while your family was stocking up on candy… or pretzels. Ladies and gents, meet the Switch Witch, a modern good witch who is Halloween's answer to Elf on the Shelf.
Audrey Kinsman got the idea when she realized her son was allergic to the candy he had spent the night trick-or-treating to obtain. She then came up with an idea: a good witch character who comes in the night and exchanges some of the candy that children leave for her in exchange for a new book or toy.
Sold at Targets around the country and online, and originating in Denver, you can purchase the doll with a storybook explaining the Switch Witch's purpose and backstory. She does not eat the candy, but merely needs it to fuel her magical broomstick. Because the Witch's Council banned the construction of candy houses after the whole "Hansel and Gretel" scandal.
Well, at least she's upfront about her transactions unlike a certain tooth fairy. The doll is to be set up around the house and will "watch" over the children ensuring that they have been good, because the promise of free candy is not enough to sedate her bloodlust. A toy cauldron is also said to come as a free accessory; it's where you put said candy in.
Not only is it a plus for children with allergies, it also allows parents to monitor the candy intake of their children, and the leftover candy can even be donated; in fact, Kinsman has partnered with Operation Shoebox to actually donate the candy to American troops. According to Elizabeth Werner, a self-proclaimed Children's Industry Toy Expert,
"I see literally hundreds of new concepts and products every year, and loved the Switch Witch 'tradition in a box' concept from day one and know that families are going to embrace this magical new Halloween tradition. 'The Switch Witch and the Magic of Switchcraft' has a unique health-conscious and altruistic message that is not only fun, but also gives parents peace-of-mind."
The figure of the Switch Witch, however, is nothing new. Mothers have apparently been using the concept of sacrificing their kids' candy to a good witch in order to limit all that sugar intake for years, as this video above illustrates. A similar figure to the Switch Witch called La Befana is also a common tradition in parts of Italy, and international Italian communities, albeit as a Christmas or Feast of the Epiphany tradition, and she is more likely to give out candy than take it.
Update: We had gotten word on yet another Switch Witch doll; this time from a company based in Salem, Massachusetts. They certainly know about witches there; they used to hang 'em! Resembling a cute little scarecrow, she also comes with her own book and toy cauldron.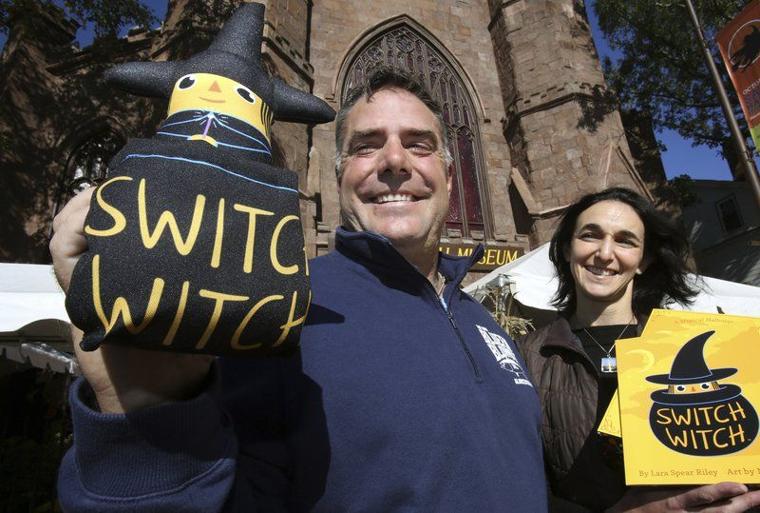 The Switch Witch has become so common that Marge Simpson donned the get-up for Treehouse of Horror XXII, as back as 2011! And we know you want one, so why not pick one up?